Meet Timber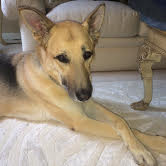 Timber is a  6 year old German Shepherd Mix. Poor Tim had such an unimaginable life before coming to me. He had lived his whole life as a breeding male for a puppy mill. He had no human touch or kindness, only fear and neglect. Timber was 1 of 20 dogs taken from a  puppy mill because of abuse and neglect. These dogs had to spend 6 months in a shelter until the court case was heard. At any point, the mill could of given up the rights to these dogs so they could have been adopted. The mill did not do this, so these dogs languished in the shelter for 6 months. All of the dogs were adopted except for Timber. He was there for 2 more months (8 months total). He was very scared and stayed away from anyone who approached his cage. Tim seemed to fall into a depression when his mate was adopted. They were best buds. When I got the call about Timber, I was apprehensive because I had never fostered a puppy mill dog. I had some mixed emotions but I agreed to meet him. When I first met him he had very little interest in me. I took him out to the yard for some space. That day a saw a dog who wanted, needed and desired love and a home to call his own. I went back two more times so he could to get to know me better. I knew I couldn't leave him there.

Since that day, Timber has come such along way! In spite of the many obstacles he has faced, with patience and love he has made amazing progress! When Timber first arrived, he chose to spend the majority of time in his crate. He even wanted to eat in his crate. When he wasn't in his crate, he chose to spend hours outside at the edge of my yard in the shade. Slowly, Timber felt safe and confident enough to enjoy laying on the deck with our patio door open looking in the house. He then progressed to the point where he was able to stay in the kitchen next to the open patio door looking out at the yard. Soon Timber was living in the house! Throughout this transition, he always had an open crate as his safe place. With patience and baby steps, Timber was finally comfortable in the house! It was so rewarding and at times hilarious to watch him adjust to his new environment. Everything was new to him. Including the steps!

As time went on I watched Timer blossom. He gained confidence, slowly becoming more social and learned to play with other dogs. He saw that he was loved and treated with kindness. He has learned what it is like to be a member of a family. Timber is a dog who loves companionship. It is rare to find him not by my side. From time to time he enjoys going upstairs to lay on his dog bed. This was a big deal in his confidence!
Timber is amazing on a leash. He never pulls and 99% of the time he walks behind me. Timber comes to me for attention and love. He curls his body up for rubs. He is a different dog than the dog I brought home months ago.. Many of my neighbors have commented on what a changed dog he is. I've had many fosters. Tim has been my biggest challenge and my greatest reward. He is truly loved for the first time in his life.

Timer is a fixed male utd (up to date) on shots. He is on heart worm and tick medicines. He is also on Prozac. Tim seems to prefer women over men. He lives with 2 other dogs and a cat. He has met a lot of other dogs and is fine with all of them. He has also done well meeting new people on walks and in our home.

The ideal home for Tim Tim is a woman owner or a home where she will be the main caregiver, another easy going dog and someone home most of the day.  He needs a calm household with no young children. These are must haves for Tim. Timber almost never barks. He has only barked twice since he got here. So if you'd like a shadow, company in the bathroom at all times, and an all around best bud, Timber may be the dog for you. Please write to me and tell me about yourself at jkorvette at verizon.net
---

Back to Dog List

Icon  Key: No small children